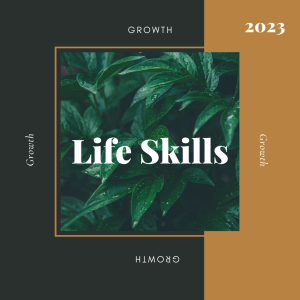 Hi friend!
2022 was an amazing year, and we had so much fun getting to know each of you!
Our online gatherings were full of laughter, transparency and vulnerability. Our in-person gatherings were community oriented and filled with friendship building! All of our gathering experiences were invaluable to us!! Thank you all for being a part of Growth Co. in 2022.
2022 built our momentum, and set us up for a transformational 2023 🙂  
With all of the personal growth and exploration that was taking place, we still felt like there was something missing…We needed that "umph" that would REALLY get our members connected to themselves, one another and the organization as a whole.
We are so proud to tell you that our focus for 2023 is LIFE SKILLS! 
In today's society, 20s/30s struggle to find community and a sense of belonging. What better way to develop life as a young adult than to focus on life skill-sets that will set us up for success! Things like how to: cook, perform simple home repairs, practice boundaries, balance work/play, fitness/nutrition, meditation/prayer, find your purpose & MORE!
Diving into these life skills as a community will only strengthen and unite us! Both as individuals and as a group!
Each month, we will focus on a different skill set, and have opportunities for members to lead these skill sets for the rest of us depending on their interests!
Growth Co. exists to provide a boundary breaking space that unites 20s/30s while encouraging the development of real life skills. As a result, deep and intentional connections lead to positive transformation within themselves, one another, and their communities.

 
We are beyond exited to give this year a purpose…and we can't wait to learn REAL life skills with you this year!! 🙂
Skill Set suggestions? Interested in leading a specific skill set for Growth Co.?
Contact Lexi at:
lexi@thegrowthco.org OR shoot her a text at (704)-476-1050 🙂